Benefits of Hiring U Have It Maid for Your Professional House Cleaning in Conroe, Texas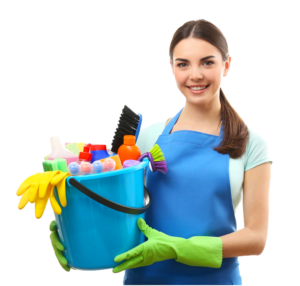 Hiring U Have It Maid brings a multitude of benefits that go beyond just having a clean home. Let's delve into the advantages they offer:
1. Exceptional Cleaning Expertise
U Have It Maid is a trusted and experienced professional house cleaning company in Conroe, Texas. Their team of skilled cleaners possesses extensive knowledge and expertise in cleaning various types of homes. Whether you have a small apartment or a large family house, they have the expertise to handle it all.
Their dedicated cleaners are trained to deliver exceptional results by employing efficient cleaning techniques and using high-quality cleaning products. With their attention to detail and commitment to excellence, U Have It Maid ensures that every nook and cranny of your home receives the care and thorough cleaning it deserves.
2. Customized Cleaning Plans
One size doesn't fit all when it comes to house cleaning. U Have It Maid understands that each home is unique, and cleaning requirements may vary. That's why they offer customized cleaning plans tailored to your specific needs.
Before initiating their services, U Have It Maid takes the time to understand your preferences and requirements. Whether you need a deep clean, regular maintenance cleaning, or assistance with specific areas of your home, they will create a personalized cleaning plan that meets your expectations.
3. Time Savings
Keeping your home clean demands significant time and effort. By hiring U Have It Maid, you can reclaim your valuable time and focus on what matters most to you. Instead of spending hours scrubbing floors and dusting surfaces, you can relax and engage in activities you enjoy.
The professional cleaners at U Have It Maid efficiently handle all aspects of house cleaning, including tedious tasks such as vacuuming, mopping, and disinfecting. By entrusting your cleaning chores to them, you can free up time for family, friends, hobbies, or even some well-deserved relaxation.
4. Consistent Cleaning Schedule
Maintaining a consistent cleaning schedule can be challenging, especially with a busy lifestyle. U Have It Maid eliminates this concern by providing reliable and consistent house cleaning services in Conroe, Texas.
Once you've established your cleaning plan with U Have It Maid, you can rely on them to arrive promptly and perform their services as scheduled. Their commitment to punctuality ensures that your home receives regular cleaning, allowing you to maintain a consistently clean and welcoming environment.
5. Comprehensive Cleaning Services
U Have It Maid offers a comprehensive range of cleaning services to cater to all your needs. From general cleaning tasks to more specialized services, they have you covered. Some of the services they provide include:
Dusting and polishing furniture
Vacuuming carpets and rugs
Sweeping and mopping floors
Cleaning and sanitizing bathrooms
Kitchen cleaning, including appliance exteriors and countertops
Window cleaning
Baseboard dusting and cleaning
Upholstery cleaning
and much more!
No matter the scope of your cleaning requirements, U Have It Maid has the expertise and resources to deliver exceptional results.
6. Health and Hygiene Benefits
Maintaining a clean and hygienic home is crucial for the health and well-being of you and your family. U Have It Maid understands the importance of a healthy living environment and employs effective cleaning practices to promote hygiene.
Their team of professional cleaners utilizes top-quality cleaning products and equipment to sanitize surfaces, eliminate dust mites, and remove allergens. By keeping your home clean, U Have It Maid contributes to a healthier indoor environment, reducing the risk of allergies, respiratory issues, and other health concerns.