Benefits of Hiring U Have It Maid for Your Professional House Cleaning in Spring, Texas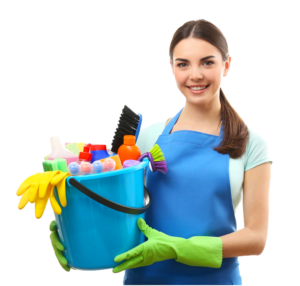 When it comes to maintaining a clean and organized home, finding the time and energy to tackle regular house cleaning can be challenging. That's where professional cleaning services like U Have It Maid come in. With their expertise and commitment to delivering exceptional results, hiring U Have It Maid for your professional house cleaning in Spring, Texas can offer numerous benefits. From providing you with more free time to ensuring a pristine living environment, this article explores the advantages of entrusting your cleaning needs to U Have It Maid.
U Have It Maid sets itself apart from the competition with their dedication to customer satisfaction and attention to detail. Let's dive into the specific benefits you can enjoy when you choose U Have It Maid for your house cleaning needs in Spring, Texas:
1. Professionalism and Expertise
U Have It Maid is staffed by highly trained professionals who possess the knowledge and skills to handle all aspects of professional house cleaning. Their team members undergo thorough training, ensuring that they are well-versed in the latest cleaning techniques and equipped with the necessary tools and supplies. By hiring U Have It Maid, you can have peace of mind knowing that your home will be cleaned by experienced professionals who understand the best practices for achieving outstanding results.
2. Time-Saving Convenience
Maintaining a clean and tidy home requires a significant investment of time and effort. By delegating your house cleaning tasks to U Have It Maid, you can reclaim valuable hours in your day. With their efficient and systematic approach to cleaning, they can tackle all the necessary chores while you focus on more important priorities. Imagine coming home to a sparkling clean house without having to lift a finger. U Have It Maid makes it possible.
3. Customized Cleaning Plans
Every home is unique, and U Have It Maid understands that different households have different cleaning requirements. That's why they offer customized cleaning plans tailored to meet your specific needs. Whether you prefer a regular cleaning schedule or require a one-time deep clean, U Have It Maid can create a plan that suits your preferences. Their flexibility ensures that you receive the exact level of cleaning your home requires.
4. Attention to Detail
One of the standout features of U Have It Maid is their commitment to meticulous attention to detail. Their team goes above and beyond to ensure that every nook and cranny of your home receives thorough cleaning. From dusting hard-to-reach areas to sanitizing high-touch surfaces, U Have It Maid leaves no stone unturned. You can trust them to deliver an impeccably clean and fresh living space.
5. Consistent and Reliable Service
Consistency is key when it comes to house cleaning services, and U Have It Maid excels in this area. They take pride in delivering reliable and consistent service to their clients. Once you establish a cleaning schedule with them, you can expect them to arrive promptly and complete the cleaning tasks as agreed upon. Their professionalism and commitment to timeliness ensure that you can always rely on U Have It Maid for your house cleaning needs.
6. Use of High-Quality Products and Equipment
To achieve exceptional cleaning results, it is essential to use high-quality cleaning products and equipment. U Have It Maid understands this and only utilizes top-notch supplies and tools in their cleaning process. They stay up to date with the latest advancements in cleaning technology and use eco-friendly products wherever possible. Their commitment to using quality products guarantees a thorough and safe cleaning experience for your home.
7. Flexible Scheduling Options
Life can be unpredictable, and U Have It Maid recognizes that. They offer flexible scheduling options to accommodate your busy lifestyle. Whether you require a one-time cleaning service for a special occasion or regular maintenance cleaning, U Have It Maid can adjust their schedule to meet your needs. Their flexibility allows you to enjoy a clean home whenever it suits you best.
8. Enhanced Health and Hygiene
A clean home is not only aesthetically pleasing but also promotes a healthier living environment. Regular professional cleaning by U Have It Maid helps eliminate allergens, dust mites, and other airborne particles that can contribute to respiratory issues and allergies. Their thorough cleaning practices, coupled with the use of safe and effective cleaning products, ensure that your home remains a healthy sanctuary for you and your family.
9. Stress Reduction
Cleaning can be a physically demanding and mentally exhausting task, particularly when added to an already busy schedule. By hiring U Have It Maid, you can alleviate the stress associated with house cleaning. Instead of worrying about finding the time and energy to clean, you can relax and enjoy your free time, knowing that your home is in the capable hands of professionals. U Have It Maid allows you to focus on the things that truly matter to you.
10. Increased Productivity
Living in a clean and organized environment has been proven to enhance productivity and mental clarity. When your home is free from clutter and dirt, you can concentrate better and accomplish tasks more efficiently. U Have It Maid helps you create an environment that fosters productivity, allowing you to excel in your personal and professional endeavors.